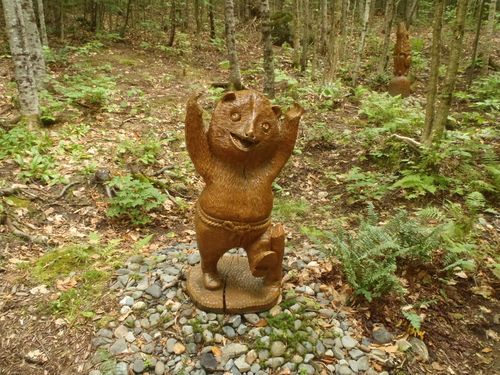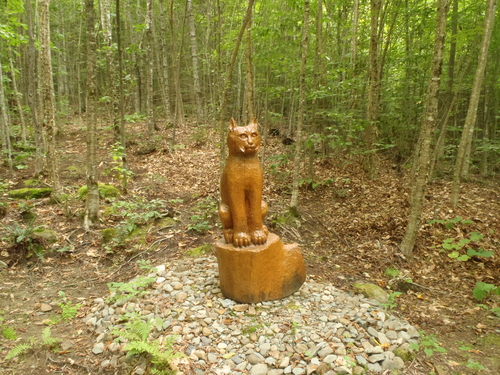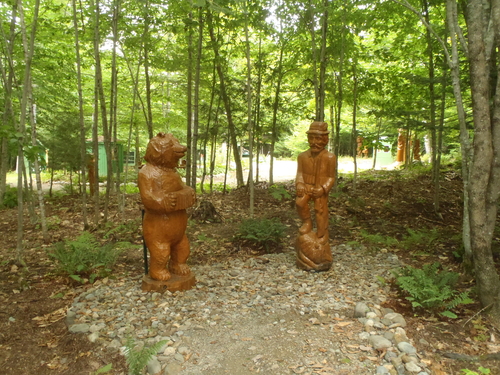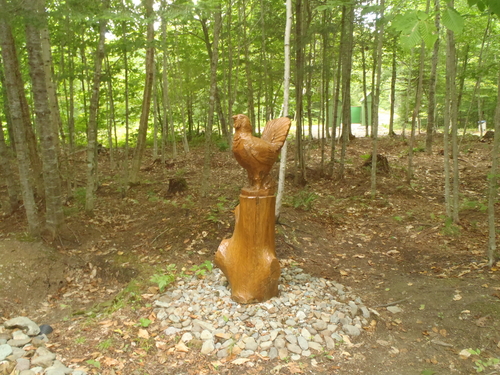 The Alexandria Art Trail largest hand-carved, outdoor sculpture collection in Maine awaits the harried traveler along a serene path through the woods.


The Alexander Art Trail is part museum, part gallery and part fairy wonderland — a collection of more than two dozen life-size, hand-carved figures, scattered along a winding, wooded path. Dozens of local artists also have loaned their works to the trail.

Walking along the art trail, crossing little wooden bridges over streams, a sense of peace settles on visitors. Birds call. A breeze plays in the treetops. And the sculptures alternately surprise, enthrall and enchant.


In its natural, outdoor setting, each exhibit changes as the light moves. A giant, playful bear may seem a bit aggressive in the shade but when struck by the afternoon
sunlight, it comes playfully alive.

Sitting on a bench along the trail, visitors can either feel watched by the life-size carvings or feel a joyful part of their wonder.

The art trail was created by Roland and Grazina Paegle, who live nearby on the shores of Barrows Lake at the foot of Breakneck Mountain. They have called this place home for 40 years, but spend the winter months traveling around the world.


It was during these travels that the idea for a Maine art trail was formed. Both of the Paegles have art backgrounds (Roland's driftwood sculptures are tucked throughout the art trail) and they were struck by the artistic forms of the large totem poles in Alaska.


Then, while traveling in Europe, the Paegles found that in wooded areas quite similar to Maine, "fantastic" trails were created that included life-size wooden sculptures.